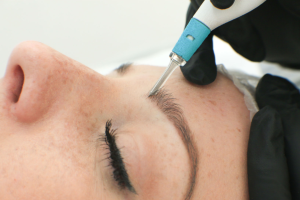 It seems like only movies and dreams have the self-sufficient, lucrative lifestyles that people long for. Coming home from a job you don't absolutely hate is something that is far more rare than it should be. Many people have these lofty ambitions, but very few pursue them.
Zoe Gillespie, CEO of Zoe Milan Studios, is a distinguished beauty technician who passionately strives to gain her clients' 100 percent satisfaction. She is a top-tier practitioner in the industry who specializes in microblading, which is the application of permanent makeup to enhance brows and give them a fuller appearance. However, Zoe has not always enjoyed this level of success.
Like so many others, Zoe struggled to find her niche in life; somewhere she could use her talents to simultaneously benefit others and support herself. There was a time where she struggled to maintain a cohesive list of priorities, causing her progress toward success to stagnate.
Then, one day, she found the answer, a way to be the one who is control of her own life and future rather than work hard for the profit of someone else. She decided to look into how she could make money from her interests, which in this case is the beauty industry.
After learning that microblading is a trend that is growing exponentially across the country, she began taking courses on microblading application. After a vast amount of diligence and perseverance, Zoe was able to use her business mindset to open up her own salon, where she has established herself as a remarkable professional in the beauty industry. While Zoe's experience surely is a dream come true, it did not happen by chance; her passion for beauty application and drive to succeed are what brought her desires into reality. Anyone else can follow a similar path and go just as far, or even further.
Zoe chose microblading because it is one of the most promising and lucrative skills in the industry to learn. In fact, more people than ever before are seeking microblading services, and many are also learning how to become microblading practitioners themselves.
Luckily, microblading is a very accessible skill that anyone is able to take courses on. However, careful attention should be paid to whom exactly you are learning microblading from, as there are many deceptive individuals in the industry who are looking to take advantage of those who do not inform themselves about what education they should be receiving. For more information regarding Microblading, [Click Here].