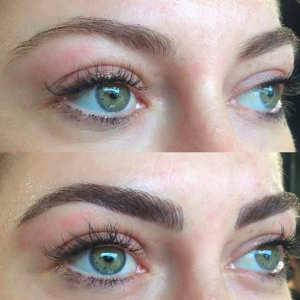 Like most good trends, eyebrow tattooing has made a comeback, and it's stronger than ever. The new, very popular wave of eyebrow tattooing goes by a number of names, including microblading, micropigmentation, and feather touch tattooing.
Many expert technicians report being booked solid several months out for the procedure, because the benefits far outweigh any nerves or apprehension about "permanent makeup." Perhaps the most commonly expressed benefit is the time and makeup products saved from having your eyebrows enhanced via a tattoo procedure. You won't need to apply brow pencils, waxes, or powders on a daily basis or worry about your eyebrows smudging, running, or looking noticeably uneven.
Before the procedure itself, your technician will work hard to help produce your desired end result. Because everyone's facial structures and preferences differ, creating a permanent look is more of an art than a science.
"There are many factors to consider when we design a suitable shape. Most importantly we steer clear of trends such as the 'power brow' that is way too overdone for people's features," said Amy Jean Linnehan, eyebrow expert from Amy Jean Eye Couture in Australia. "Cosmetic tattooing should go undetected and be as subtle as possible. We take into account thickness, arch, length, and the color/pigment that will be used."
Another eyebrow expert, Kristin Fisher (of Kristin Fisher Eyebrows), said she and her team of technicians spend 30 minutes or more measuring and drawing the brow shape for a client. She emphasizes the importance of shape: measuring the distance apart, the length of the brow, and the angle of the arch.
Though the microblading process has become very popular around the globe, most prospective clients aren't well informed on the process. Many are surprised to find that the technician doesn't use a noisy tattoo gun, but rather a handheld tool, called a microblade. The tool has tiny needles in the end, used to apply pigment into the skin.
Another common misconception is that your actual hair will be removed in the tattooing process. The technician won't actually remove your brow hairs, but will instead use the pigment to make crisp, fine strokes that mimic your hair, filling in any bald or sparse areas.
The process lasts anywhere between an hour and two hours, depending on your individual experience. The final result lasts about 12 to 24 months, varying by skin type and attention to aftercare.
"Oily skin breaks down the pigments and blur the 'crisp' lines at a faster rate than a dry skin type would. For that reason drier skin types get longer lasting results out of micro-feathering brow tattoo," Linnehan said.
Moisturizing the area and protecting your brows from the sun can also extend the life of your microblading treatment. For more information regarding semi-permanent tattooing, [Click Here].