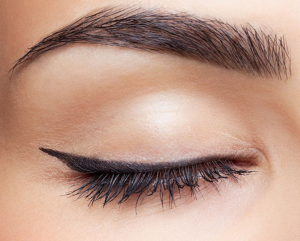 Eyebrows, like every other fashion trend, change with time. In the 90s, thin was in. But, today, thick, bold brows, like those seen on Kim Kardashian and Angelina Jolie, are all the rage.
People all around the world are trying to achieve shapely, sculpted brows. But how do they do it? Filling your brows in daily with gels and powders is one tedious, time consuming option. But, more permanent options are out there. One permanent option, is eyebrow tattooing. Eyebrow feathering or micropigmentation is a semi-permanent procedure that has only recently made an appearance in the beauty world. Brow extensions, similar to eyelash extensions are another semi-permanent option.
Shasta Tokar is a certified cosmetic tattooist, who calls those working in her field "glorified makeup artists." Tokar reportedly performs as many as 10 brow feathering procedures a week, and says there are plenty of clients willing to spend hundreds of dollars to have their eyebrows enhanced through cosmetic tattooing. While Tokar performs the procedure on clients who suffer from cancer, alopecia, and other conditions that induce hair loss, many of her clients get the procedure for convenience sake.
According to Tokar, methods of eyebrow tattooing and the stigma around the procedure have changed dramatically over the last decade. The semi-permanent nature of eyebrow feathering or pigmentation is what is drawing modern clients in to have their brows enhanced. Unlike permanent makeup techniques of the past, eyebrow feathering lasts anywhere between one and three years, so those who pay for the procedure can keep up with changing brow trends should they desire.
Tokar advises those interested in eyebrow feathering or micropigmentation to shop around before choosing one tattooist or salon. Ask to see an artist's portfolio before going through with the procedure and read reviews if they are available online. The process should not be painful, and a certified, trusted artist will be able to provide a pain-free experience to his or her clients.
Cosmetic tattooing offers many more possibilities than brow enhancement. Tokar also serves clients wanting permanent lip color, eyeliner, beauty marks, and other unusual requests. Tokar said, "I did freckles on my best friend. There's absolutely nothing on her face, her skin is so beautiful, it's just so perfect. It's one of those things if you don't have it you want it." For more information regarding eyebrow trends, [Click Here].