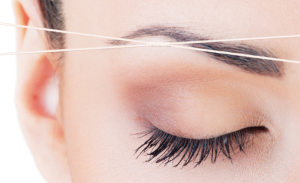 Sleek, bold brows are the most sought after beauty trend right now. While well-groomed brows can frame your face and enhance your natural features, it is important to find the grooming technique that fits your lifestyle and your personal needs.
One very popular technique is eyebrow threading. Threading dates back to ancient India and involves twisting a cotton thread to remove unwanted hair from the eyebrow region. Many prefer threading to waxing because it is both more precise and lasts longer than eyebrow waxing does.
Before you try threading for the first time, keep these simple tips and insider secrets in mind.
Find the right salon.
Visit a salon that has been recommended to you or has a good reputation in your area. Be sure that the salon will allow you to have a consultation with the technician before committing; this will ensure you get the results you desire from a well-trained professional.
Communicate with the technician.
Before the threading process begins, thoroughly describe what look you are after. Discuss shape, thickness, and color in detail with the technician, and don't be afraid to ask for their advice. You can even bring in a photo of your "brow idol" to make sure your message is clear.
Be prepared to feel some pain.
Threading is a gentle process. It does not remove any layers of skin or involve any chemicals, and is the least invasive method of eyebrow grooming. Threading is the most recommended option for those with sensitive skin. But, threading does involve some pain. While we all tolerate pain differently, be prepared to experience slight to moderate discomfort during the threading process.
Exfoliate before your appointment.
Exfoliating is a good pre-appointment practice for everyone, but is especially important if you are prone to develop ingrown hair around the brow area. Exfoliating the area before your appointment will make removing any stubborn ingrown hairs much easier and less painful.
Avoid makeup for a few hours.
After your appointment, it is normal to see some redness. Your technician will apply a soothing gel to help reduce redness. Avoid applying makeup to the area for at least a few hours following your appointment, because it can actually irritate the area even more.
Tweeze with caution between appointments.
Plucking on your own between appointments could ruin the brow shape your technician created for you. Try to schedule regular appointments every two to four weeks, depending on your personal rate of hair growth to avoid over-plucking and ruining your brow shape. For more information regarding eyebrow treatment, [Click Here].