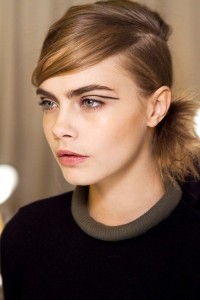 French women always seem to be leading the pack when it comes to beauty trends. From revolutionary skin care programs, to the cat-eye winged eyeliner and wispy bangs, French women led the rest of us to trendy new looks. When it comes to eyebrow trends, French beauty gurus are no further behind.
This time, as seen on Pinterest, the French are taking the bold brow to a whole other level with the under eyebrow. According to Allure Magazine, the under eyebrow, also called the "painted brow" and "Eyebrow 2.0," is a beauty trend that "paints a brow line underneath your own brow." Using liners, liquids, and shadows in various textures and colors, a line is traced along the crease of the brow, sometimes very close to the brow and other times slightly below the brow, to create the under brow look.
On designer's fall 2016 runways, models have been seen with under eyebrow looks in bold hues and glittery designs, which stylists and makeup artists believe enhances the natural brow's arch and draws attention to the eye itself. Makeup artist Alexander James called brows "the feature that give the face the most expression and character," and thinks that for this reason, the brow should be played up in fun and unique ways, especially with color.
"When you play [your eyebrows] up or play with color near them, you create a specific, personality driven look, " James added.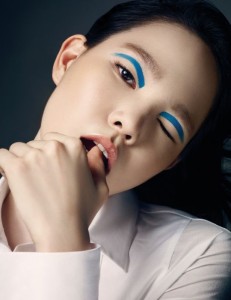 To achieve the look like an under eyebrow pro, Cosmo suggests you "fill in a brow shape below your actual brows, or freehand it by tracing underneath your eyebrow." Because completely freehanding a brow can be intimidating, consider using a stencil for your first few tries.
While adding a bold swipe of blue along your brow bone doesn't necessarily alter your eyebrows themselves, it does draw more attention to them. To truly nail the under eyebrow, make sure your brows are shaped and filled, so the eye is eventually drawn to a bold work of art, framed by a shimmery, bright under brow. To create your best brows, experiment with the wide array of brow brushes, pencils, and gels on the market, or consider something more permanent and hassle free, like microblading or henna brows. To keep your brows in shape, try threading as an alternative to tweezing.
Stock up on your favorite bright and glittery products, and keep your eye out for the newest eyebrow trend to make its way to American runways and stores. For more information regarding brow trends, [Click Here].