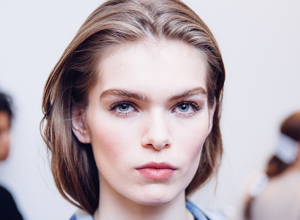 The latest beauty trend is eyebrow modification. To achieve the perfect, full, bold brow look we see from celebrities, models, and makeup gurus, we turn to pencils, powders, gels, and even permanent solutions to like tattooing.
In the past, permanent makeup has not always been the most natural looking. "You don't have as much control with a permanent makeup machine because it vibrates, so the strokes are going to be blurrier," said Piret Aava, a New York City-based eyebrow professional. Instead of traditional permanent makeup application, the most natural looking and long lasting eyebrow enhancement on the market is achieved through a technique called microblading.
Microblading uses a pen-like tool with tiny needles in the head, rather than a traditional permanent makeup machine, to achieve the client's desired look. The pen gives professionals more control and allows them to achieve better and more natural looking results.
The microblading process begins with a numbing cream, applied to the skin around the eyebrows, to allow for a more pleasant experience. Though the process is not painful, some clients do experience minimal discomfort. Next, the pen-like device is dipped into cosmetic-grade eyebrow dye, which is applied to the skin in fine, hair-like strokes. Though the procedure will differ slightly from artist to artist, Aava recommends clients return four weeks after the initial treatment to fill any gaps and add a second color for added dimension.
With microblading, the end result is a fuller, bolder brow made of subtly defined strokes, not the blended look you achieve by using traditional makeup products.
According to Aava, the microblading process, unlike waxing or threading, doesn't come with any bad surprises. A professional artist will match the hue of their pigment to the client's natural brow hair and test the color against the client's skin tone before following through with the procedure. Before ever picking up a needle, Aava pencils a custom shape, size, and hair pattern onto her clients' skin and makes adjustments according to a client's personal preferences.

Microblading provides clients with a completely personalized look, applied by a cosmetic professional. The results are long-lasting and appear much more natural than any do-it-yourself technique. For more information on the microblading services available at Zoe Milan Studios, visit zoemilanstudios.com today! For more on microblading, [Click Here].