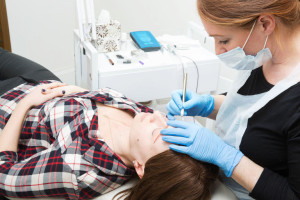 For many, filling, grooming, and even professionally altering their eyebrows is simply an effort at enhancing their natural brows and overall appearance. But, for those, like Alexandra Martell, who suffer from alopecia and other conditions that result in hair loss, the new permanent eyebrow trend has been a life changer. Martell shared with Cosmopolitan how permanent makeup changed her eyebrows and her life for the better.
Suffering from alopecia meant Martell had to spend several minutes a day drawing on and filling in her eyebrows, long before Cara Delevingne made statement eyebrows cool. Though she had toyed with the idea of permanent makeup in the past, the recent advancements in permanent eyebrow altering techniques, namely micropigmentation and microblading, encouraged Martell to take a leap of faith.
After some research, she made an appointment with Amy Kernahan, a permanent makeup artist located in New York City. At the consultation, Kernahan explained that permanent makeup is not actually permanent, because unlike regular tattoo artists, permanent makeup artists use thicker, less concentrated pigments. The makeup will fade over time, much more prominently than a typical tattoo, eventually becoming barely visible.
Like Kernahan, most professional permanent makeup artists will begin by drawing a new eyebrow shape on in regular makeup, making adjustments as needed until the client is happy with his or her new brows. Once the client and artist are both pleased with the shape, the real procedure will begin. Both micropigmentation and microblading take about an hour, but total time will vary from artist to artist.
The procedures have been described as being slightly less painful than a normal tattoo. Most permanent makeup artists will apply a numbing cream to the area, but you will likely still feel some slight discomfort. After the initial procedure, the most important advice to take away from your artist is to allow the area to heal, as picking and scratching at the dry, scabby area can lead to uneven healing and an uneven appearance. For Martell, this was the most difficult part of the process.
After the initial procedure, you will need to return back to your artist in about four to six weeks for a touch up. This is important, because the artist will be able to fill in any gaps and make slight adjustments to perfect your brows. In Martell's case, Kernahan took her brows a shade darker. The second procedure is followed by another week of healing, and then your new brows are complete. Martell stressed the importance of moisturizing the area and wearing sunscreen daily.
For Martell, like many women today, permanent eyebrow makeup vamped up her look, but unlike most, Martell experienced a renewed sense of confidence that her brows looked natural and were really there. She no longer has to worry about her brows smudging or wiping off, and said, "I can just live my life now," all thanks to permanent eyebrow makeup. For more information regarding permanent eyebrows, [Click Here].